Cepsa and Yara Clean Ammonia have entered into a strategic partnership to create the first green hydrogen maritime corridor between the ports of Algeciras and Rotterdam.
Under the partnership, Yara Clean Ammonia will become a partner in the Andalusian Green Hydrogen Valley project in Cádiz, Spain, near the port of Algeciras, where Cepsa is constructing a new green ammonia plant. The plant is the largest green ammonia project in Europe, with an annual production capacity of up to 750,000 tons, reducing up to 3 million tons of CO2 emissions.
The project is expected to create 3,300 jobs and a new market in Algeciras for green ammonia, a product derived from green hydrogen used as a sustainable marine fuel and carrier of green hydrogen for its transportation.
The plant will use green hydrogen generated by Cepsa and EDP at the 1 GW plant in Campo de Gibraltar for its feedstock.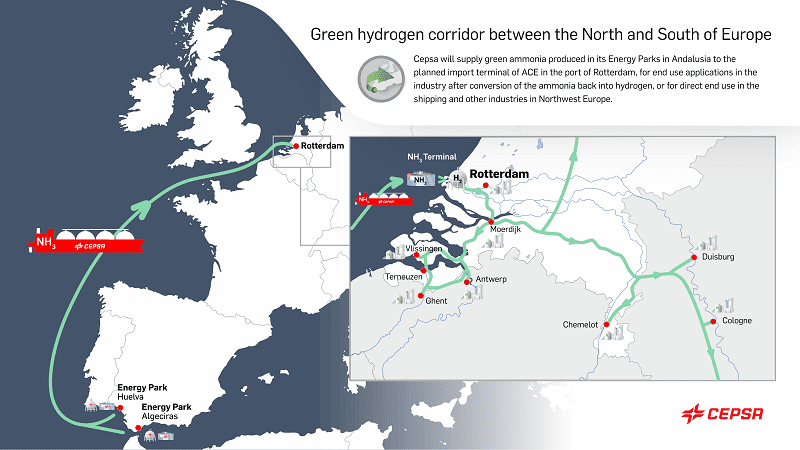 As part of the partnership, Yara Clean Ammonia will also supply Cepsa with green ammonia, giving the Spanish energy producer a head start in setting up the green hydrogen corridor and establishing itself among industrial and marine customers in Rotterdam and Central Europe.
Yara Clean Ammonia, a member of Yara International, has its largest ammonia and fertilizer plant in the Netherlands, situated in Sluiskil on the Ghent-Terneuzen canal, a significant deep-sea waterway leading to the North Sea.
The signing ceremony was attended by His Majesty King Felipe VI of Spain and His Majesty King Willem-Alexander of the Netherlands, highlighting the collaboration between the two countries to accelerate the net-zero carbon energy transition and achieve energy independence for Europe.
Cepsa also announced the signing of an agreement with Dutch company Gasunie, ensuring access to its green hydrogen transport network in the Netherlands. This will connect the Port of Rotterdam with other European industrial centers in Germany, the Netherlands, and Belgium as part of the Delta Corridor project.
These agreements will help to strengthen the development of the Andalusian Green Hydrogen Valley project with 2 GW of electrolysis capacity and an overall investment of 3 billion euros.
"Today's agreements are a critical step towards the long-term viability of the Andalusian Green Hydrogen Valley and the implementation of the first maritime corridor of sustainable fuels that will link the South with the North of Europe," said Maarten Wetselaar, CEO of Cepsa. "Green hydrogen and its derivatives are the fastest, most viable, and competitive solution to accelerate the energy transition in heavy transport and ensure energy independence in Europe."
Source: gCaptain
Shared on Maiden Marine Surveys by Yigezu G. Demeke (Capt.)